HOTSWAP INKS
Don't restrict your business to manufacturers' inks.
INK MADE EASY
HotSwap Inks is a line of alternative inks for HP Scitex printers including the FB500, FB550, FB700, and FB750. Unlike other alternative inks, HotSwap Inks are chemically compatible, which means there is no difficult conversion process.

SWAP ONE COLOR AT A TIME
As your HP UV ink runs out, simply plug in a container of HotSwap Ink and continue printing. No need to flush the lines or re-profile your machine, just replace one color at a time for a seamless conversion.

HotSwap Inks replace these HP factory inks: FB250, FB251, and FB794.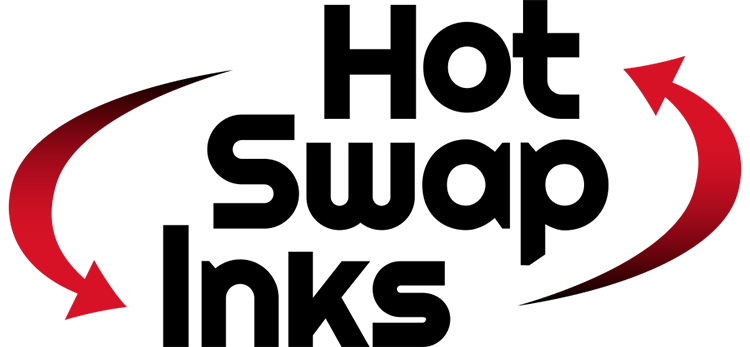 WHY SHOULD YOU HOTSWAP?
Color-Matched: You won't have to re-profile your printer, you can continue using your existing profiles.
Chemically Compatible: No need to flush lines before changing over to HotSwap Inks.* Change one color at a time as your old ink runs out.
Plug-and-Play: Each container of ink comes with a chip that communicates with the printer. You can rest assured that HotSwap Inks are HP compatible.
Made in the USA: Strict quality control standards and stateside manufacturing. You'll get high quality ink delivered when you need it, without long lead times or overseas freight charges.
Ink Train Warranty: You're covered. Period.
Instant Savings: You'll see huge savings over OEM prices when you switch to HotSwap Inks. On average, users save $200 per ink container!

*When changing from another non-OEM ink, each ink channel should be flushed before converting.