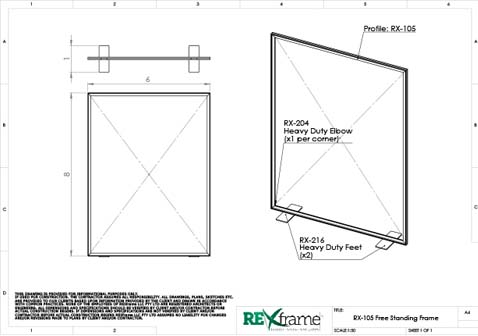 HOW IT'S MADE
SEG Frontlit displays can be designed in a vast number of ways. A freestanding, double sided display similar to this one can be constructed using these parts:
RX-105 [Double-Sided Frontlit]
RX-204 [Heavy Duty Elbow]
RX-309 [LED Arm Light]
RX-216 [Heavy Duty Feet]

SEG DISPLAYS
FRONTLIT DISPLAYS
Frontlit SEG Displays can be customized to suit nearly any concept: Pop-ups, wall frames, different shapes and designs, and much more. They can be equipped with accessories such as flush mounted monitors, magnetic shelves, hooks and more. Bring your ideas to Global Imaging and we will assist with design, rendering and fabrication to bring your idea to life.
SINGLE-TOOL ASSEMBLY
IT DOESN'T GET MUCH EASIER THAN THIS