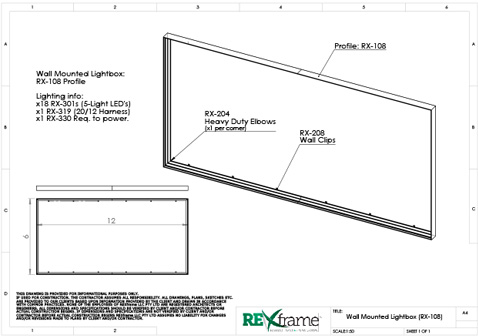 LIGHTBOXES COMPONENTS
A lightbox can be built in a variety of ways. Build a single-sided, wall-mounted display like this one with these parts:
RX-108 [Single-Sided Lightbox]
RX-204 [Heavy Duty Elbow]
RX-300 [9-Light Module]
RX-208 [Wall Clip]

SEG DISPLAYS
LIGHTBOXES
SEG fabric lightboxes can be free-standing with feet, wall mounted or suspended. They can be single-sided, double-sided, cubes or custom shapes. A thin profile option allows for ADA compliance. The aluminum extrusions come in lengths of 10' but can be joined to create any length or width.



LED LIGHTNING
LOW ENERGY, HIGH IMPACT.
LED lighting creates a bright, crisp light that illuminates inspired color and rich blacks. LED light strips can be placed along the perimeter for edge lighting or across the entire frame using a "ladder lighting" technique. SEG lightboxes aren't limited to white light. Some very cool applications are being released into the market using programmable RGB lights as well. You dream it, we will help you make it.
SIMPLE YET VERSATILE
REXFRAME'S MOST POPULAR PROFILE: RX-108