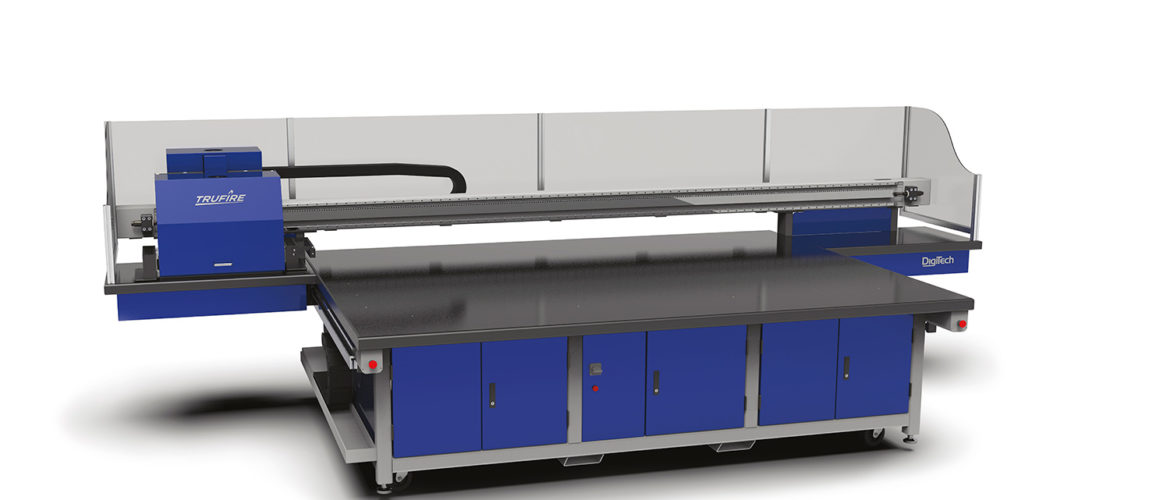 New Product Announcement: Digitech TruFire
Press Release
Global Imaging, a leading distributor of grand format digital printing equipment, is pleased to announce the U.S. distribution of the new Digitech TruFire UV flatbed printer.
The TruFire is a dedicated flatbed that excels in ink adhesion and productivity, even with some of the most difficult substrates, such as styrene, coroplast and aluminum blanks.
Patric Coldewey, President of Digitech, stated "Greg and his team at Global Imaging have a reputation for valuing their customers and creating long-term relationships. We feel this is in line with our own approach to our partners. We're excited to join forces with Global and offer this industry the partnership of two established and reputable U.S. companies who can offer and support a printer that is made in America."
The Digitech TruFire will complement Global Imaging's already superior UV product offerings with its price-to-performance ratio. The TruFire starts at under $250,000. This will open new market opportunities for both Global Imaging and its clients.
Greg Lamb, CEO of Global Imaging, says "We've had great respect for the work that Patric Coldewey and Digitech have done in the industry. We look forward to the partnership of our companies and our ability to offer the market something that it has been missing up to this point."
The printer will be available for demonstration at Global Imaging's Workflow Studio in Louisville, Colorado in the fall of 2019.
---
About Global Imaging
Global Imaging has been the leading integrator of wide and grand format printing systems and supplies since 1995. Their aim is to help your PSP grow profitably through a careful curation of industry-leading products and services . A comprehensive portfolio of brands provides a complete array of products, services and the technical expertise needed for strategic business solutions and profitability in the wide and grand format printing industry. These brands include Global Garage, Parts Depot, Global Imaging Finance and PrinterEvolution. Global's 6500 sq. ft. Workflow Studio is the only demonstration area in the country that emulates an entire grand format production facility with the most current and cutting edge products available. www.globalimaginginc.com