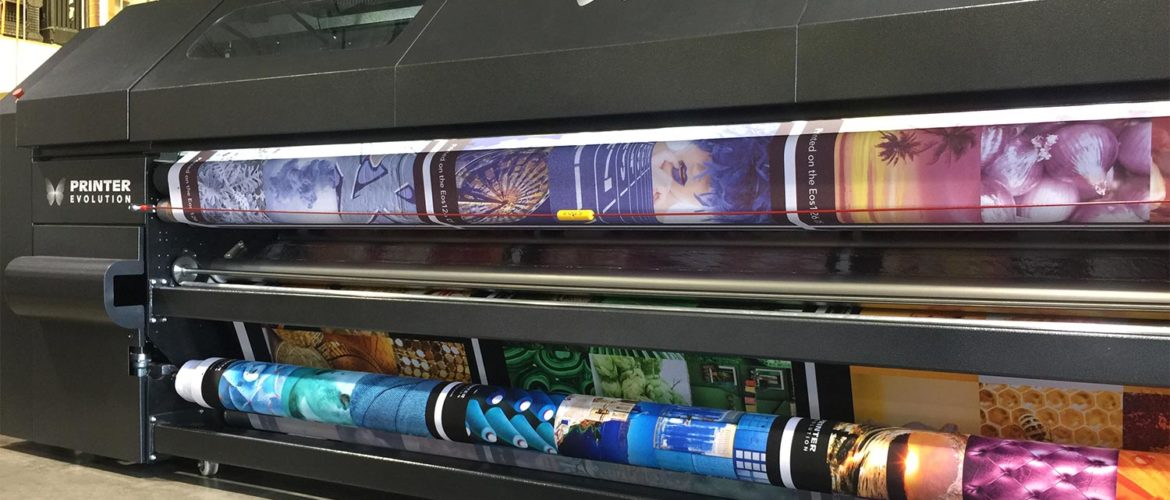 Digital Textile Printers: What Kind Is Best For Your Business?
Here at Global Imaging, we specialize in providing a road map for your present and future grand format printing needs. You need a partner who will help you grow and scale in the coming years, not just one that will sell you a device for today. We receive a lot of questions about digital textile printers when our customers are planning for their future needs. These devices allow businesses to print stunning graphics on fabric for trade show displays, backlit signs, banners, feather flags and more. However, selecting the right printer for the job can be a complex process for a growing business.
There are two types of large format textile printers to consider – direct printers and transfer printers. While most fabric printers are either direct or transfer, there are a few on the market that can do both. For example, all of the PrinterEvolution devices we carry can be configured to print direct and transfer.
Whichever kind is best for your business depends on the types of jobs you intend to produce. Let's take a look at both printing techniques and break down what kind of printer best fits your current and future plans.
Direct vs. Transfer Printing In Digital Textile Printers
Regardless of being printed direct or transfer, the output of both methods is nearly identical to the naked eye. However, there are a couple of slight differences. The color gamut is slightly broader with transfer, while ink saturation can be greater with direct. That said, most end users will be unable to tell the finished products apart.
Whether printing transfer or direct, the type of fabric used for digital textile printing is 100% polyester. A direct printer requires a special coating be applied to the fabric before use. This is done by the fabric manufacturer. Transfer printers, on the other hand, typically use untreated polyester. So which is right for your business?
Direct Printers
Direct printers are somewhat self-explanatory. They apply ink directly to the textile. In certain applications like feather flags, the ink can even be applied in heavy amounts so the color bleeds through to both sides. This technique, commonly referred to as "blow-through," is useful in applications where the graphic will be seen from both sides.
Manipulating a printer's ink load is also key in creating backlit displays. The ink load required for a backlit graphic is significantly greater than a traditional, frontlit print. It has to saturate a much denser, backlit-specific substrate to ensure that the color doesn't appear washed out once it is lit from behind.
These two applications, feather flags and backlit displays, are typically produced with a direct printer. Transfer printers are generally unable to print these elements as well as direct printers due to the high ink load required. This is worth noting if your business will offer these products now or in the future.

Transfer Printers
A transfer printer is the other type of digital textile printer utilized by sign and graphics shops. Instead of printing directly to the fabric, ink is first applied to a roll of transfer paper. The ink from the paper is then transferred to a substrate using a heat press or roll-to-roll calender. The application of heat and pressure forces the ink from the transfer paper to sublimate into the fabric.
When producing large format fabric graphics, shops typically use untreated polyester fabrics. These fabrics can vary in weight, white-point, hand (the way it feels when touched), and stretch capacity among other characteristics.  As you evaluate cost, you'll find that uncoated polyester is less expensive than coated. But with the added cost of the transfer paper, direct and transfer printing have very similar material costs.
Remember, it's not just transfer printers that require a calender. Both types of printers must be finished with a heat press. Adding heat to the printed textile completes the printing process and yields the completed product. Herein lies another key point to consider as you shop for digital textile printers.
Calenders – Inline vs. Offline
As we just outlined, a heat press or calender is a key element of digital textile printing. Some direct-to-fabric platforms, like the PrinterEvolution Eos or D Series, use an inline calender, which means they have a calender built directly into the machine. First, the system applies ink directly to the textile. As it continues to print, the material advances through the feed system where it passes the calender. The precise combination of pressure, temperature and dwell time fixes the dyes into the polyester fibers. Finally, the fabric exits the system as a finished print.
Offline heat presses, on the other hand, are separate machines that process the material after it comes off the printer. Both rolls of material, the transfer paper and the fabric, get loaded onto the calender where the ink is transferred to the fabric. The sublimation process is then completed as described above. This process may require more than one operator to complete the job effectively.
It's worth noting that although offline heat presses can be more versatile when it comes to materials, they will take up about twice the space as an inline system. This is certainly something to consider when your shop space is tight.


Digital Textile Printers – Where To Start
Global Imaging is pleased to offer a variety of direct and transfer digital textile printers perfect for your business. For more flexible applications where businesses handle a variety of materials, we recommend offline printers like the PrinterEvolution Kayo and PrinterEvolution T Series. These two models can be configured to print direct or transfer. They also require a separate calender, in which case we recommend Monti Antonio Calenders.
Are you planning on printing backlit graphics or flags? Inline printers, like the PrinterEvolution Eos or D Series, are ideal for shops that need a direct-to-fabric device for specific applications like these, or simply want the efficiency of an all-in-one system.


Still not sure which is right for your business? We're here to help. Contact Global Imaging to receive a personalized analysis today.