Celebrating Our Workflow Studio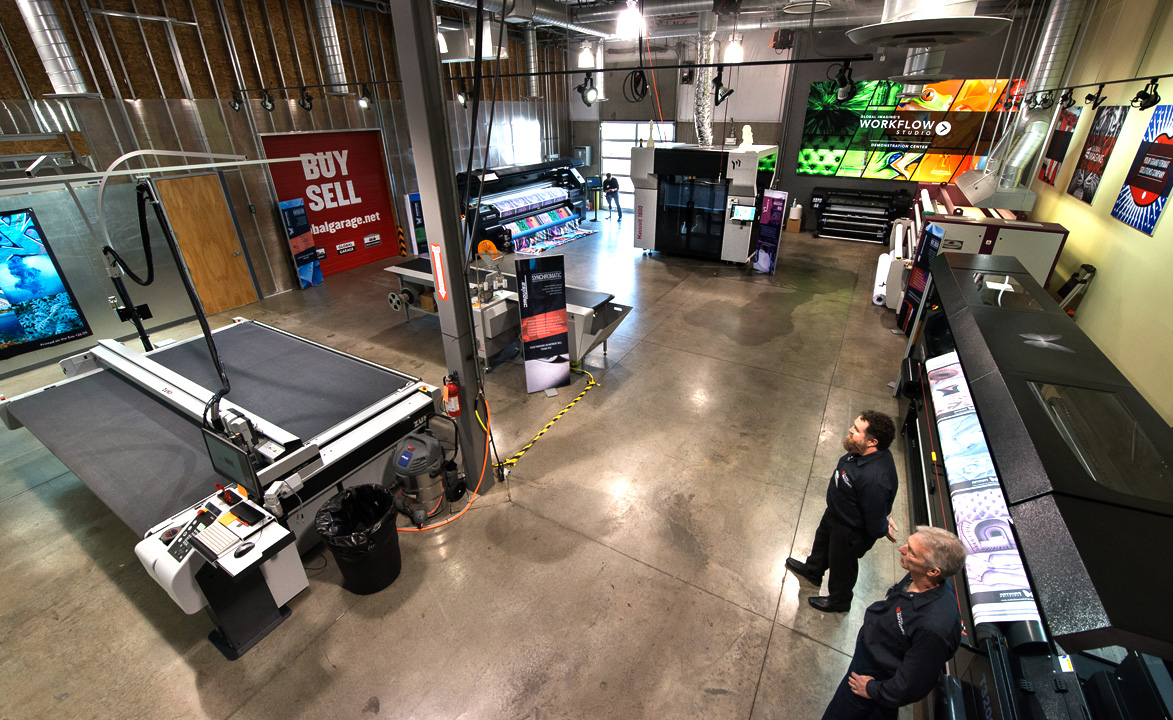 Like all of our best innovations, we created the Workflow Studio to fill a gap we found many of our clients struggling with. How could they make the most informed decision about cutting-edge technological products without seeing them in action, right alongside the other critical components of a high production print shop? Selecting the right grand format equipment requires significant investment and there was nowhere to see it all working together.
Once we recognized this need, we put our heads together and in 2012, our Workflow Studio was born. Originally it housed an HP latex and an HP FB500 UV flatbed, Zünd cutter, Klieverick calender, Novus Synergia flatbed and a Miller Weldmaster welding machine.
Today, our 6,500-square-foot Workflow Studio features equipment from most of our product portfolio. Currently we are running three fabric printers: the PrinterEvolution Evo33, T3200 and D3200; the Monti Antonio calender; Zünd G3; Barbieri Spectrophotometer; Caldera RIP and Automation Software; and Aleyant tFLOW.
We are very excited to announce our latest addition, the Massivit 1800 3D printer – the first of its kind to be installed in North America! We unveiled this device during our March VIP Event. It will be available for demonstration throughout the year and regularly featured during our quarterly VIP Events.
Customers and prospects can schedule time to fly to Colorado and put these devices through their paces any time throughout the year, or join a select group of about 30 guests who are invited to attend a VIP Event where they will get the opportunity to see all of the equipment and meet all of the manufacturer representatives in a busy, 24-hour event.
VIP Events include information on the technical and market aspects of our devices, as well as one-on-one time with vendors and demonstrations on each piece of equipment – an experience you can't get anywhere else. You can also book a private demo. Contact us anytime to request an invitation to our next event.